Results Profile Application : Control Systems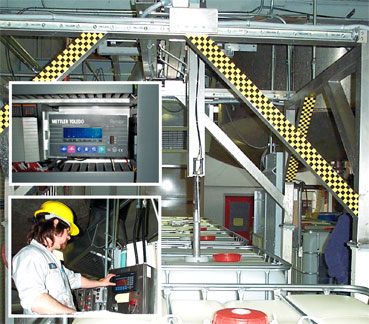 | | |
| --- | --- |
| Company Name: | Rohm & Haas (Canada) Ltd |
| Address: | 2 Manse Road, Toronto, Ontario |
| Application: | Automatic Robotic Bulk Filler |
| Telephone | (905) 501-9157 |
Application Details:
The robotic bulk filler is a fully automated 3-axis controlled filling system utilizing accurate and repeatable weight measurement as it's primary process variable. The system is built around a Mettler Toledo high-precision scale base and a 'Panther' indicator with an Allen Bradley remote I/O option card.
These components work in conjunction with the PLC logic and three variable speed, encoder-equipped AC drives to control the exact position and speed of the stainless steel filling lance in all three axes. The system will handle any combination of pails, barrels or totes set onto a standard skid. The filling sequence is set up through a recipe display that allows the operator to select product code, number of skids to be filled, container style etc. Each vessel is filled to spec based on a specific gravity look up table. As monitored by Solacon's 'Results' program, the system has enjoyed a measurable short-term payback via higher throughput, reduced give-away and minimized labour costs. The modular all-stainless design of the automated bulk filler can be applied to all process industries in either hazardous or non-hazardous locations.